Tormek T-4 Sharpening Machine
Why the Tormek T-4 Original?
Compact water-cooled sharpening system for all your edge tools
Water-cooled sharpening with no risk of overheating the steel
Exact replication – sharpen your tools with unbeatable precision
Efficient grindstone with adjustable properties equivalent to 220 to 1000 grit
Sturdy, cast zinc top with patented mounts for precise sharpening and full control
Maintenance-free industrial motor (AC) ensures minimal speed loss even under heavy load
8-year warranty, 5 years + 3 years when you register online (for private use)
Unique drive system with RKX18 rubber drive wheels
Stainless steel shaft with composite EzyLock for easy replacement of grinding wheels
World-class precision
The Tormek T-4 Original offers the same precision and stability as our larger models, with a compact design. Vital features such as the motor and main shaft are mounted in the cast zinc top, where the patented universal support mounts are also integrated. This design provides unbeatable precision for the universal support, which guides all jigs and accessories.
Compact and versatile
Like the larger machine models, the Tormek T-4 Original comes equipped with Tormek's Original Grindstone. What distinguishes the grindstones between the models is their size. Tormek's SG-200 Original Grindstone is optimized to combine efficient steel removal, a nice finish and a long life span. Using the SP-650 Stone Grader that is included with the machine, you can alternate the surface of the grinding wheel from 220 grit to a surface equivalent to 1000 grit, which provides several characteristics in the same single grinding wheel.
Keeps all tools sharp
The Tormek T-4 Original is ideal for sharpening chisels, knives, scissors, and smaller tools such as woodcarving tools. It also works well for woodturning tools and drills. We recommend one of Tormek's larger models for sharpening planer blades and moulding knives. Please note that a few types of woodturning gouges can't be honed using the SVD-186 R Gouge Jig on the leather honing wheel due to the compact design of the Tormek T-4 Original. These tools can be honed freehand instead.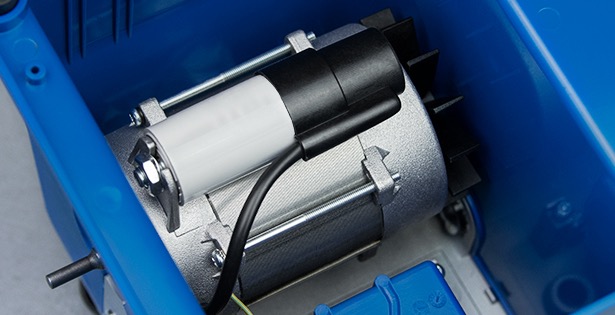 Industrial AC Motor
The base and support for all jigs. Enables unbeatable precision when sharpening.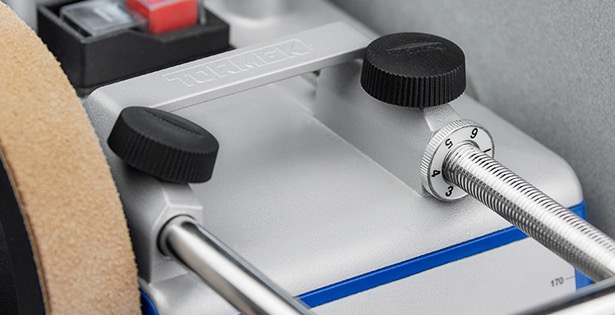 Patented Precision Mounts
Ensures controllable and accurate sharpening.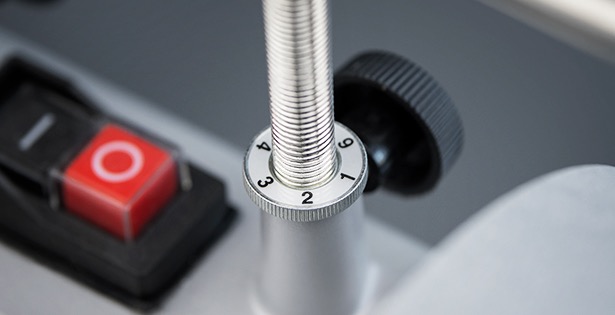 MicroAdjust
With acme thread and a scale for precise edge angle setting.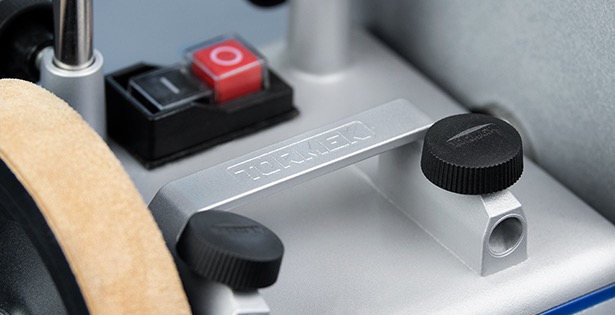 Sturdy handle
Efficiently collects sharpening dust and makes it easy to clean the water trough.
Packaging dimensions
Width: 325 mm (12¾")
Depth: 235 mm (9¼")
Height: 257 mm (10 1/8")
Machine dimensions
Width: 240 mm (9 7/16")
Depth: 205 mm (8 1/16")
Height: 260 mm (10¼")
Weight
Inc. packaging: 9.8 kg (21.6 lbs)
Machine only: 8 kg (17.6 lbs)
Color
Cord length
Material
Precision-cast zinc top, powder-coated
Impact-resistant blue ABS plastic
Grinding wheel
Honing wheel
Drive system
Unique drive system with RKX18 rubber
Self-adjusting for load
Main shaft
Performance
Motor
Industrial motor, single phase, AC
120 W (input), 100-115 V / 220-240 V, 50-60 Hz
Operation 30 min/h
Maintenance-free
Quiet running, 54 dB
10 000 hours of operating time
Warranty
8-year warranty*, 5 years + 3 years when you register at tormek.com
* The warranty for the Tormek T-4 Original is 2 years when used for commercial, industrial, or educational purposes
Documents
Patents


Tormek T-4 Original – Getting started with Alan Holtham
Alan Holtham, British woodturner and journalist, shows you how to get started with your new Tormek T-4 Original.


The grand sharpening machine comparison | Tormek Live
Alan Holtham, English woodturner and journalist, shows you step by step how to get started and use the Tormek T-8 sharpening system.
The Tormek T-4 Original comes with:

SG-200 Original Grindstone with adjustable sharpening properties,
LA-145 Leather Honing Wheel for deburring and polishing the bevel,
US-103 Universal Support for precision sharpening,
SP-650 Stone Grader to adjust the grit of your grindstone,
WM-200 AngleMaster to measure the sharpening angle,
PA-70 Honing Compound which is used on the leather honing wheel,
EM-15 Edge Marker for coloring the bevel when setting the sharpening angle,
HB-10 Tormek Handbook comes in different language versions depending on the market.


Complement your Tormek T-4 Original with a selection of jigs for the tools you'll be sharpening (sold separately).
Your Dynamic Snippet will be displayed here... This message is displayed because youy did not provide both a filter and a template to use.