Tormek T-8 Original - The Ultimate Sharpening System
Why the Tormek T-8 Original?
Sharpens all your edge tools. Add the jigs you need and build the system.
Water-cooled sharpening with no risk of overheating the steel.
Exact repeatability– sharpen your tools with unbeatable precision.
Efficient grindstone with adjustable properties equivalent to 220 to 1000 grit.
Solid zinc frame with integrated mounts for controllable and accurate sharpening.
Powerful industrial AC motor for continuous use.
8-year warranty, 5 years + 3 years when you register online.
Sharpen with unbeatable precision
The advanced design ensures unbeatable precision for the Universal Support, which is the foundation of the Tormek sharpening system, since it guides all grinding jigs and accessories. The patented precision mounts for the Universal Support are integrated in this model's fully cast machine housing. This gives you full control and maximum accuracy in your sharpening.
The highest quality made in Sweden
The Tormek T-8 Original comes with the SG-250 Original Grindstone. It has adjustable sharpening properties equivalent to 220 to 1000 grit and sharpens all types of steel grades, including HSS. Tormek's efficient drive system guarantees you many years of quiet and reliable use. The system is built to maintain optimal speed for water-cooled sharpening, even under full load, thanks to its unique drive wheel. The industrial AC motor is maintenance-free and designed to run the full-size grinding wheel for continuous use. The motor is tested for a 25,000 hour service life.


Water trough with screw lift and magnetic scraper
The Tormek T-8 Original is equipped with loads of smart features to make your sharpening easier. For example, the water trough has a convenient screw lift to easily raise and lower the water trough. It also has a double function magnetic scraper: during sharpening, the magnet collects steel particles, and after sharpening, the scraper will make it easy to clean the water trough. For long tools that may drip water outside the water trough (like chef's knives and planer blades), you can easily fit the enclosed water chute onto the edge of the water trough.
EzyLock – quick and easy switching of grinding wheels
Another worked-through detail is the stainless-steel main shaft with Tormek's unique EzyLock nut, which enables tool-free locking and unlocking of the grinding wheel. The EzyLock also makes it easy to change grinding wheels if you work with some of Tormek's special grindstones SB-250 Blackstone Silicon or SJ-250 Japanese Waterstone. Or perhaps one of our diamond grinding wheels?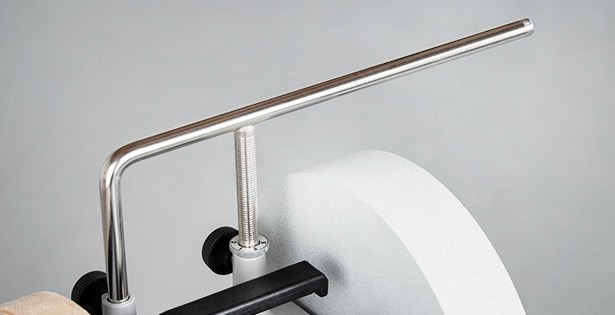 Universal Support
The base and support for all jigs. Gives unbeatable precision when sharpening.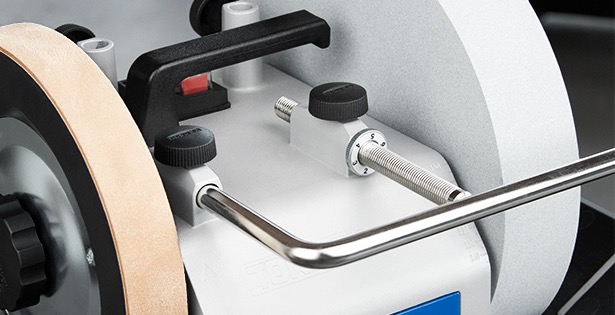 Patented Precision Mounts
Guarantees controllable and accurate sharpening.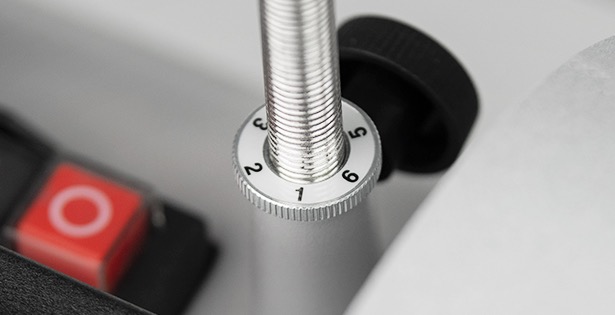 MicroAdjust
With ACME thread and a scale for precise angle setting.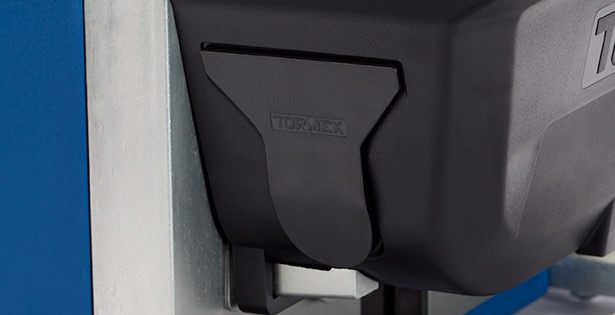 Magnetic Scraper
Efficiently collects steel particles and makes it easy to clean the water trough.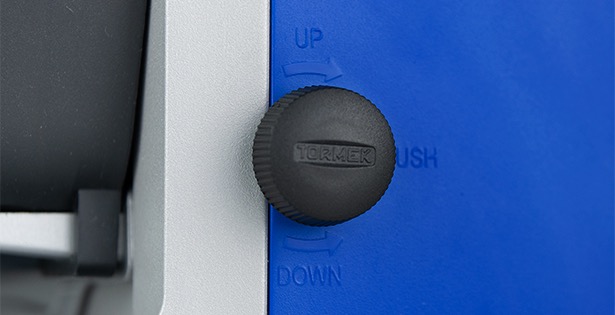 Screw Lift
Easily raises and lowers the water trough.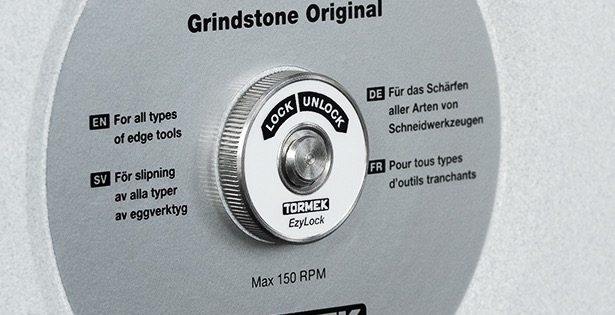 EzyLock
Convenient, tool-free locking and unlocking of the grinding wheel.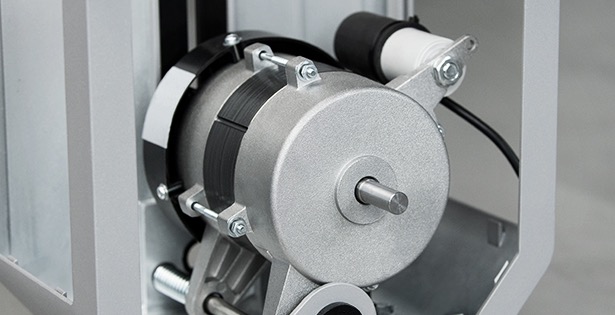 Industrial AC Motor
Maintenance-free. Minimal rpm loss under heavy load. Tested for a 25,000-hour service life.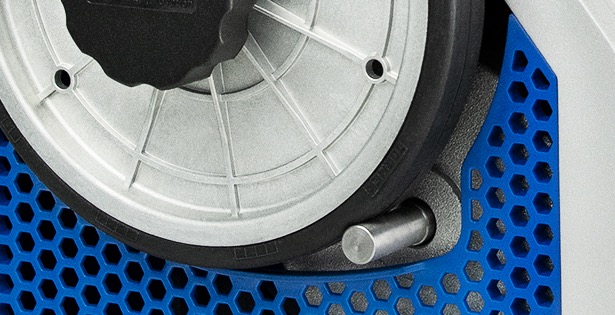 Efficient drive
RKX18 rubber ensures years of silent and reliable operation.
Packaging dimensions
Width: 393 mm (15 1/2")
Depth: 296 mm (11 5/8")
Height: 383 mm (15 1/8")
Machine dimensions
Width: 270 mm (10 5/8")
Depth: 270 mm (10 5/8")
Height: 330 mm (12")
Weight
Inc. packaging: 18.7 kg (41.3 lbs)
Machine only: 14.8 kg (32.6 lbs)
Color
Cord length
Housing
Precision-cast zinc stand, powder-coated
Sides made of impact-resistant blue ABS plastic
Grinding wheel
SG-250 Original Grindstone
Aluminum oxide
⌀ 250 * 50 mm (9.84 × 1.97")
Honing wheel
LA-220 Leather Honing Wheel
Cowhide from Tärnsjö Garveri, ABS plastic
⌀ 220 * 31 mm (8.66 × 1.22")
Drive system
Unique drive system with RKX18 rubber
Self-adjusting for load
Main shaft
MSK-250 Stainless Steel Shaft with EzyLock
Performance
Motor
Industrial motor, single phase, AC
200 W (input), 100-115 V / 220-240 V, 50-60 Hz
Continuous operation
Maintenance-free
Quiet running, 54 dB
25 000 hours of operating time
Warranty
Documents
Patents


Tormek T-8 – Getting started with Alan Holtham
Alan Holtham, British woodturner and journalist, shows you how to get started with your new Tormek T-8 Original.


Tormek's water-cooled sharpening system – tips and tricks
The eighth of Tormek's live sharpening classes offers some more or less secret tricks to help you take your sharpening to the next level.
Includes everything you need to get started with your sharpening.

SG-250 Original Grindstone with adjustable sharpening properties
LA-220 Leather Honing Wheel for deburring and polishing
US-105 Universal Support for precision sharpening
T8-00 Storage Tray for Tormek T-8 Accessories for organized storage
SE-77 Square Edge Jig for versatile sharpening of chisels and plane irons
TT-50 Truing Tool to keep your grindstone round and flat
SP-650 Stone Grader to adjust the grit of your stone
WM-200 AngleMaster to measure the sharpening angle
PA-70 Honing Compound which is used with the leather honing wheel
EM-15 Edge Marker for coloring the bevel when setting the sharpening angle
HB-10 Tormek Handbook for sharpening, comes in different language versions depending on the market
Metal plate mount for WM-200 AngleMaster
Your Dynamic Snippet will be displayed here... This message is displayed because youy did not provide both a filter and a template to use.